As a church we aim to be outward looking, both to the local community and to the worldwide church. We have an active parish visiting team, which visits house to house to make links with those who are not yet part of the church community. We hold regular Alpha Courses for anyone wanting to explore the faith.
We have strong ties with several parts of Africa. We have a link with the Diocese of Aru in the Democratic Republic of Congo, through Bishop Ande Titre, who was on placement here during his training in Birmingham. As well as praying regularly for them, we have helped finance the building of a church secondary school and diocesan office, as well as funding humanitarian work. We also support the diocesan link with the Anglican Church in Malawi, which several of our members have visited. And we have ties with a church school and orphanage in Moshe, Tanzania. Groups from the parish have visited both, and we aim to give regular financial and prayer support.
Other mission links include Dave Waters, with Ambassadors in Sport in South Africa, Ron and Jeanette Happ with Interserve in Nepal, and a family working with CMS in a Muslim country in central Asia.
More locally, we are happy to support both financially and practically the work of Friends International among international students in Birmingham's universities, and also the work of the Church Army and the Children's Society.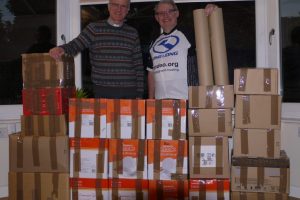 Malawi – we have supported the shipment of medical supplies to our Diocesan link by various events such as a craft fair and a head and shoulder massage event at the Parish Centre, as well as a Body Shop parties in order to raise additional funds for Medic Malawi.
Congo – In November the Diocese of Aru celebrated its 10th anniversary. Together with a celebratory card the church was able to dispatch a consignment of books for the Newton Library, together with a financial gift.
The Shoe Box Appeal is a truly awesome feat of organisation and effort. By the end of October some 320 boxes had been filled by us as well as the Baptist Church volunteers and St. Andrew's School, and were ready to go out to Kyrgyzstan together with some 8,000 other boxes from the Diocese.   
India – With prayer support and a little help from the Mike Durnan Fund, a church member made a trip for a month with Tearfund, to help disadvantaged communities and serve God with a really amazing team of young people.
Nepal –  we have given support for the devastating earthquakes that the country had experienced followed by the severe shortages of food, shelter, and fuel.
Ron and Jeanette Happ (our former mission partners with Interserve) also visited Nepal during the autumn and related back how they had got on visiting friends, teaching English, and visiting relief projects. They also set up a craft stall after the church service to sell a selection of handicrafts in order to raise funds for victims of the earthquake. 
Zimbabwe – the Church members took up knitting / crocheting squares initiative and sent 8 blankets out to help the people in Zimbabwe.
Christian Aid – God is good. This year there were not only enough people on the ground, but they raised some a record sum of money.
Toilet twinning – It is wonderful when one of the church youth gets inspired by God to take some action. In this case he had heard about Tearfund's aim to 'link a toilet in this country with one in the developing world, so that those less fortunate could be provided with sanitation, clean water, and hygiene education'. Not only did he raise the funds to twin one toilet but in the end all of the Parish centre's toilets could be twinned.
Children's Society – Boxes raise money towards vital service support for disadvantaged children each year, and every penny helps.
Mission partners – During the year we have had visits from the Happs, the Waters, and the Walkers. The latter are continuing to settle in to their new way of life with Reach Beyond in South Africa.